Hunting elk in September is considered by many to be the holy grail of DIY bow hunting. Like hunting turkeys on steroids, the grandeur of the mountains mixed with animals weighing over 800 lbs. makes for an adventure you cannot have by just stepping out the back door. With the increase in social media exposure, elk hunting has become more popular in recent years which has highlighted conservation efforts and issues concerning public land use across the West. It also has created a lure that most hunters are simply not ready for. Hunting elk with a bow is tough both mentally and physically. If you choose to embark on a week of early season elk bow hunting, betting time from work and hard earned money to go to a place you may have never been before, it may not be the easiest week of your life. It will, however, be one of the most memorable!
The episode "The Little Big Things" captures nearly every critical part of a classic DIY elk hunt in September. Early season elk bow hunting is a fantastic pure hunting adventure. If you think being in a relationship tests your mental willpower, just wait until you try hunting elk. This episode captures the highs and the lows, the weather, the frustration and the elation of success at the last possible moment. Watch carefully and you can learn the lessons as you plan for your own DIY archery elk hunting quest.
How To Start Your Quest | Initial Thoughts
Contrary to popular belief, not every unit in the West is a draw unit. You can find over the counter tags (OTC), or get a "general tag" for a general unit if you are unsuccessful in some states, like Montana and Wyoming, and have fantastic hunting. The general fear is about dealing with crowds. The truth is, to get away from crowds you must have it within your personal drive to hike deeper and further than everyone else. The logistics of hunting elk with a bow are staggering when you begin to think about the little things. The further in you are hunting, the tougher the pack out with a few hundred extra pounds. It becomes a game of time and willpower. Chris and I hiked several hours into an OTC area with everything we could carry for a six-day hunt. Lesson number one, hunting with trusted partners helps distribute crucial gear, provides a second mind to solve problems, carry meat, and is generally welcomed when the frustration and misery sets in. However, not everyone you know that hunts will be the one you want to convince to hunt elk with you. Your hunting partner, especially on a tough backpack elk hunt, should have the same drive, desire and determination as you. Whiners and complainers need not apply for these hunts. Chris and I have hunted hard together for many years and have a common trust in each other to withstand the challenges of tough hunts. Some would even go as far to call this a "bromance", but any hunter knows the term well, if they are fortunate to have such a hunting partner.

Early Season Elk Bow Hunting Gear List
 Western hunting, in general, is a gear driven hunting experience. This basically means that you often really heavily on your gear whether it's a spotting scope, your bow, your pack, or even as simple as the soles on your feet.

Elk Hunting Packs
 Getting to camp with everything on your back means you will have a pack weighing anywhere from 40lbs. to 60lbs. Training to hunt and hunting workouts become crucial to be able to hike long miles with heavy packs. However, you must remember to not push yourself too hard when trying to reach camp. Take breaks if needed to save energy as it is a precious commodity in the mountains.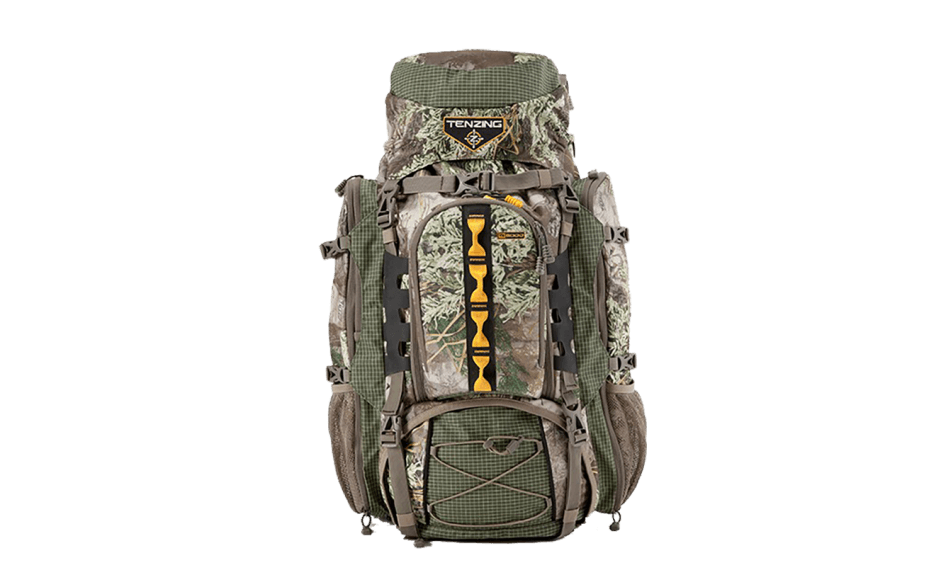 Picking the right pack to carry all of your gear will also have a bearing on making the best of the general discomfort of hiking long distances. Picking a pack around 6000 cubic inches like the Tenzing TZ 6000 that has both large and small compartments to keep gear organized, a sturdy frame and adjustable belt for hip support gives you the ability to pack about a week's worth of gear. In addition, this pack has plenty of additional straps so you can add gear, like a sleeping pad or sleeping bag without taking up room inside the pack. For a week of early season elk bow hunting, consolidation is key, freeze-dried meals are the norm and lightweight gear rules all. Bringing just the essentials makes for challenges but increases the depth of the experience as you have to rely on what you want to carry into the mountains! If you are hunting with other people, it is important to not forget an essential piece of gear but bringing multiple of the same items doesn't make sense. Plan your gear list ahead of time and assign certain gear that you will need, but only one of.
Elk Hunting Clothing
Clothing choices for early season elk hunting should provide a range of layering and protection. Despite being late summer on the calendar, the weather in the mountains can be unpredictably moody, changing from warm and sunny to blowing winds and both solid or liquid precipitation with just a change in the wind's direction. This episode highlights the frustration of ominous weather. We dealt with rain for multiple days. In the backcountry it is important to keep yourself dry as soaking your gear on a hunt can lead to threatening situations. Getting damp can be caused by the elements or having too much clothing or too heavy of clothing and working up a sweat. Either can be bad if the weather suddenly turns cold.
Chris and I use the Browning Hells Canyon line of clothing. This layering system keeps the body's temperature regulated through the heat and cold to maximize the ability to hunt hard. Having a quality layering system also allows one to consolidate clothing for packing into the mountains.
Elk Hunting Footwear
When we were able to get out between the rain storms to hunt we had to hike into hard locations to get into the elk sign. Having a good, sturdy pair of boots that you are comfortable living in for days at a time is critical to elk hunting success. Wood N Stream boots gave us the opportunity to push further into the mountains to find animals as the pressures of the hunt stared us in the face.

Early Season Elk Hunting Tactics
Calling elk is one of the first aspects of bow hunting in September hunters talk about.  Calling elk is much like calling at turkeys.  There is an ebb and flow to the art.  Like Kenny Rodgers sings in "The Gambler" you really do have to know when to hold and fold. When to be passive and when to be aggressive. This comes from experience, screwing up a few sets and paying attention to how the animals are talking with each other. Some elk herds respond well to calling and others do not.  This can come from a variety of factors like pressure.  A big bull hears one cruddy call at the beginning of the season and he might be spooky towards anything but his own group for the entire season.  Make sure you practice your elk calls consistently all year.  Don't get to elk camp then try to learn. Do the work ahead of time.  In this episode, it was apparent bulls were receptive to the aggressive calling from Chris and I as they were able to elicit responses from bulls and call in a few young animals.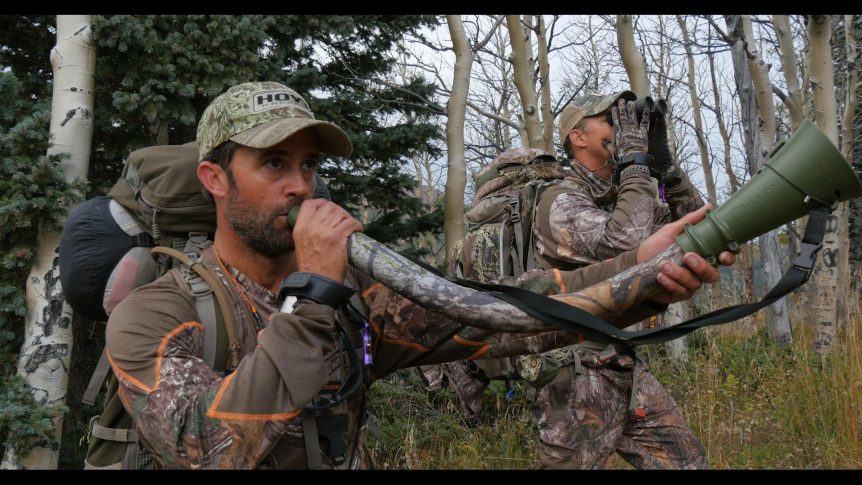 This worked out perfectly as I called a spike into bow range for Chris. Chris had the right idea. OTC unit, public land hunt; take the shot. Unfortunately, Chris missed the young bull. Slightly uphill at a shorter distance, his arrow sailed high. Shooting at different angles is a part of hunting in the mountains. Even the slightest change in elevation creates a new situation for your arrow and where you hold your pins. Practicing at home to know how your arrows react to changes in elevation is your responsibility. Sure, you might have to travel to practice these shots, but it will make a difference in your confidence. At the end of the episode, I was faced with a steep downward shot. Knowing my equipment, I knew I could make the shot despite the circumstances. The result was a well-placed arrow and extremely tender elk meat being packed off the mountain. Setting up your bow, bow sight, arrows, and broadheads ahead of time is essential!
Determining what is a trophy comes down to your personal conviction. Like Chis mentions in the video, in this OTC hunt, you absolutely are going to take a spike bull. When bow hunting early season elk it is the cumulative efforts of everyone in the hunting party, the close calls, the blood, sweat, frustration and anxiety that change the definition of a trophy. If you have a tag for a trophy unit, shooting a spike might not be the greatest use of that hard earned tag, or even be a legal option for you. However, hunting elk is not easy. The difficulty makes the trophy and this hunt proves hard work pays off in the end.
Bow hunting early season elk is one of the most frustrating and exhilarating hunts on this planet. For a few short weeks, the mountains become like a paradise! The animals, however, are there to survive and the mountain protects them. If you think you have what it takes to tangle with early season bulls with nothing but your bow, broadheads and the camp on your back, do your research, pack up and hit the trail.