Outdoor Edge RazorBlaze and Flip n' Blaze Knife Review
A knife is as useful as it is sharp, a dull blade is utterly useless. Nowhere have I believed this statement to be truer than in the rugged western country. Hundreds of miles from home, miles from transportation, and a great span of rough terrain and elevation creates a very surreal perspective of a knife. So in this scenario, Chris Nowak and I took a very serious look at Outdoor Edge knives. In this Outdoor Edge knife review of the Razor-Lite and Flip n' Blaze, we run them through their paces with cutting up a Moose!
As I said, nowhere is the importance of a knife more apparent than when you need it most. In the case of a rugged DIY style moose hunt in unforgiving terrain, even something as small as a knife can create the biggest difference. With hundreds of pounds of meat to cut, a dull blade would never get the job done, leaving hungry, tired, and fed up hunters on the mountain.   Sure you could take a traditional, fixed-blade knife or knives and a sharpening stone, but this adds time and additional gear to your pack.  This is why I entrust my trophy, meat, and hunt to Outdoor Edge knives.
The Razor- Lite Knife
In this Outdoor Edge knife review, you will see Chris demonstrate the advantages of the Razor-Lite. Although he does not need to, switching the knife blade out halfway through cutting up the moose allows for consistent and easy cutting. Simply put it gives you another knife but also more time to pack the moose out instead of spending hours cutting.  The simple design allowing you to switch blades is a genius for someone in our position as a DIY or western hunter.
Razor-Lite Features
Blade: 3.5″ / 8.9cm
Overall: 8″ / 20.3cm
Razor-Blade Steel: Japanese 420J2 Stainless
Razor-Blade Thickness: 0.6mm
Blade Holder: 420J2 stainless with black-oxide coating
Handle: Rubberized TPR with stainless steel liners
Sheath: Nylon
Weight: 6.4oz / 180g
The Flip n' Blaze
The Razor-Lite is a great knife to throw into the pack for a western hunt, but as I made my way down to Chris's kill I seized the opportunity to show off another of my favorite knives, the Flip n' Blaze. This unique knife offers two different functioning blades in one knife. In one knife, the Flip n' Blaze offers a skinning blade and a cutting blade. With the same sharpness Outdoor Edge guarantees, the combination offers an unmatched knife in regards to dependability in the field.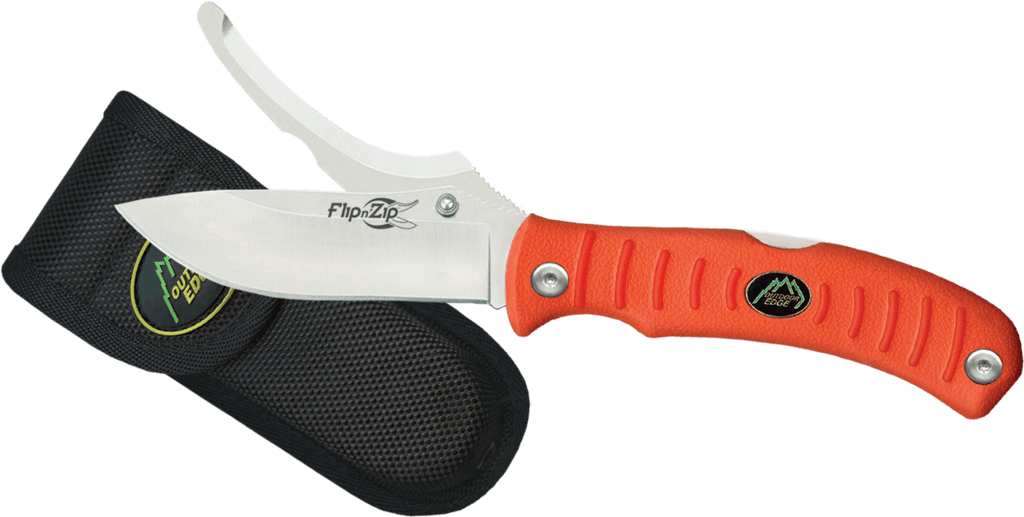 Flip n' Blaze and Flip n' Zip Features
Skinning Blade: 3.5″
Gutting Blade: 3.5″
Overall: 8.25″
Weight: 7.2oz/ 205g
Check out the full hunt here!
Check out the other gear I trust on my DIY hunting adventures by taking a look at all of my Pure hunting product reviews.