North America is home to a wide range of wildlife species that hunters have the privilege to pursue each and every year.  From small game species like upland birds and waterfowl to big game species like elk, pronghorn, or whitetail deer. We are blessed to live in a Country with an over-abundance of wildlife for us to enjoy. It gives us opportunities many only dream of such as mountain goat hunting. While the opportunity exists, it doesn't necessarily mean it will be easy, DIY mountain goat hunting is a great self-made prospect, but it requires work, a lot of work!
One of the most enjoyable aspects of hunting isn't the actual harvest itself, but rather the challenges that are often faced and that must be overcome for a hunt to result in success.  No matter if you are chasing big bull elk in the mountains of Colorado or Pope & Young mule deer on the western plains, each animal you pursue will test a hunter in many different ways.   Of all the wildlife species that exist in North America, very few will test a hunter's abilities like a mountain goat.  Mountain goats are certainly a trophy to behold, and the process of gearing up and hunting mountain goats is truly an experience that every hunter should have at least once in their lifetime.
DIY Mountain Goat Hunting | Pure Hunting, S.4 Ep.6 "Thin Air Duo"

Description:  "Willi and Chris both drew a nearly once-in-a-lifetime Colorado archery mountain goat tags. That's right a DIY mountain goat hunt. Join them as they hunt do-it-yourself hunt in the rugged San Juan Mountains of S. Colorado. This DIY mountain goat hunting video shows you the work, scouting, preparation, and physical and mental fitness a mountain goat hunt requires. This was rugged terrain, steep slopes, and high elevation, everything you would expect from a DIY mountain goat hunt"
Terrain Like No Other
To hunt mountain goats, you have to be in excellent physical condition.  There is just no other way to say it, in order to be successful you need to ensure that your body is up for the task.  We are blessed to have an abundance of areas that are teeming with mountain goats and are available for public hunting.  However, if you think that you will simply just pull up to a parking lot, slip up a mountain, and have a goat within the range of the Hoyt…you are severely mistaken.  You've heard of "Sheep Shape"?  You have to hunt through the sheep to get to the Mountain Goats!  You may very will locate a goat that you are not able to go after at that time.
As their name implies, mountain goats live in areas of extremely high elevation, with very little cover to speak of.  As a matter of fact, most mountain goats rarely frequent areas below the tree line, and much prefer to remain on barren, exposed cliff side.  Unlike many other big game, they do not migrate to lower elevations when the snow flies.  They spend 12 months a year in the high elevations.  Hunting in this type of environment is certainly hard to prepare for, and having a few tricks and tips up your sleeve can certainly help make all the different.
Be prepared for quick and severe changes in the weather.  What may start out as a bright, clear day can quickly change to a thunderstorm with lighting.  Many afternoon hunts are called short to get off the mountain which is not a good place to be when the lightning starts to flash.  In addition to your normal hunting gear, it is well worth taking ropes, axes and other climbing gear.  You may need them to recover your goat safely.  Even if the goat is in a relatively accessible place when you shoot it, they will more often than not run downhill and fall, sometimes into some nearly impossible to access terrain.
Change and Elevation can Literally Change Everything
Mountain goats reside in the high altitudes of North America's mountain ranges.  As a result of the high altitude, the air is much thinner.  The first thing that jumps out at most of us when we think of these types of areas is the lack of reduced level of oxygen making it a little harder to breathe.  Whether you are coming from Denver at an altitude of 5200 feet or sea level, Wilderness Athlete's Altitude Advatage can help you prepare your hunt at these elevations. While this is certainly true there are other factors to consider as well, before heading out on your DIY mountain goat hunt.
Regardless if you are packing a Browning or the Hoyt, you always need to fire your weapon before hitting the mountain.  A significant change in elevation can sometimes require a slight adjustment of your sight or scope.  Why?  Because the air is thinner, resulting in less drag on your bullet or broadhead you may shoot a little high so an adjustment down could be in order.  If you are going to put in the time, and expend the energy to get to where the goats are, you need to make sure that you are ready to punch a tag when the opportunity presents itself.
Scouting and Topography Are Key
It goes without saying that going DIY for mountain goats requires a great set of Vortex optics, a durable pack to carry your equipment, and last but not least a great set of boots.  The reason why these items are so important when going DIY for mountain goats is simply the fact that you will likely come to depend on them for both locating and hunting the mountain goat.
Scouting is a critical component for any hunt, but especially mountain goat.  Mountain goats really key in on certain areas of the mountains that they are on, and can often be very hard to locate given the shadows and topography, so to ensure that you are spending more time chasing goats and less time scouting it can be a great idea to plan a scouting trip, or several, ahead of your actual hunt.  This not only helps you have an idea where the goats may be, but also will prepare you for the terrain you will be hunting.
Having an excellent vantage point to glass and scout is very important, and you can often locate these areas by accessing trail roads or old two-track roads that are open to the public.  These roads can be very seldom used and not well maintained, so as a result they can be treacherous, but when utilized can really help save you time and energy.  Having ready access to a database of roads and trails is extremely helpful when going DIY for mountain goats, which is why we never hit the field without the Hunt app from OnXMaps.  Utilizing OnXMaps has been one of our biggest assets especially when hunting in tough, rugged terrain.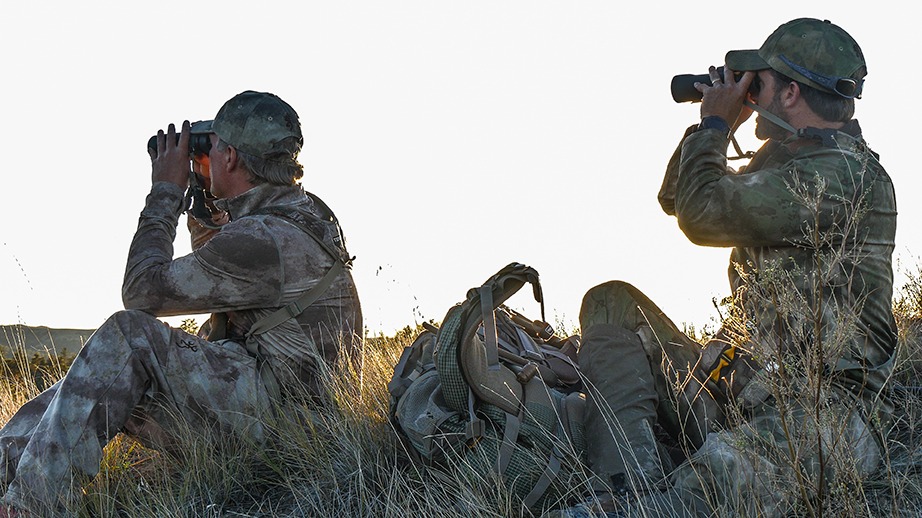 Once you have spotted a mountain goat that you would like to pursue, having a good set of maps can often show you opportunities where you may be able to gain some ground and elevation by a vehicle while at the same time being out of sight and out of mind of the mountain goat you are after.  Being quick, efficient and using the terrain to your advantage is what hunting mountain goats is all about.  Anytime you can climb in the truck and cut the distance while remaining out of sight, is going to greatly increase your chances of success, so having access to a good set of aerial photos and maps cannot be understated!
Hunting mountain goats is an unbelievable opportunity that all hunters should try at least once in their lives.  Whether you enlist the services of an outfitter or are fortunate to draw a tag and try it on your own, if you are looking for an opportunity to test you, both mentally and physically, and possibly come home with a trophy for the Skull Hooker then consider giving mountain goat hunting a try.  It is an adventure in every sense of the word!